ACCOMMODATION OPTIONS

All of our guesthouses are in Vorvénysene, a 800 they are located in the street of the annual water mill, close to highway 71, next to our restaurant.
We are waiting for our guests at 6 (+2 on an extra bed) in a large house suitable for main guests, a 4 in a small house, as well as the maximum 10 fős (nem pótágyazható) Tulipán vendégházban.
Each guest house is its own, has a closed parking lot, which gives a safe place for their car or even their bicycle.
The owners live on site, but guests have a separate entrance to their own guest area.
The Huszár guest house can be divided into two parts: a 6 main (+ 2 extra bed) suitable for receptionBig house is in 4 can accommodateLittle house. Behind these, where the Örvényesi-Séd originates, large, they can sunbathe on a well-kept grassy area, they can rest.
Directly next to the mill lies theTulip guesthouse, which is maximum 10 can accommodate one person, here the first floor is available to guests, two with larger terraces: its north-western side overlooks the water mill in Orvényes, and the southeast to the beautiful Balaton.
Breakfast can be requested at the Huszár Guest House morning 9 from, where 15 % we provide a discount on their consumption. Illetve megolható egy úgynevezett kontinentális reggeli: friss bagett, croissant, hideg felvágott helyi termelőktől, sajttál, zöldségtál, lekvárok, vaj, nutella, tojás, víz, tea, kávé. Ennél a megoldásnál kérjük előre szóljanak, mert előkészületet igényel.
It's close, just a five minute walk there is the village grocery store, ahol mindennap friss pékáruval várják a vásárlókat. Az apartmanokban a teljesen felszerelt konyhában is elkészíthető az étel így nem feltétlenül függhetnek az étterem nyitva tartási idejétől.
The village and its surroundings offer quite a few attractions and program options. Including but not limited to, There is an eight-hundred-year-old water mill in a vortex, which can be visited and a renovated free beach twenty minutes' walk from our guest house. In the next village, The eighteen-hole golf course is located in Balatonudvari, the Balaton Golf Club. However, the Balaton highlands still have many other interesting things to offer, which can usually be reached by public transport: the bus stop is five, the train station is an eight-minute walk from the guest house. The ferry runs between Szántód and Tihany-Rév, hardly from us 10 kilometers away.
If they prefer to move, the cycle path around Balaton runs directly in front of us, and at the Guest Housefor bike rental there is also a possibility.
Online booking
Secure your place for the selected date, on our online booking system, which is connected to several channels (Booking, Airbnb, Szallas.hu, Szallasvadasz.hu). Nálunk mindig a legjobb árat találja!
Huszár guest house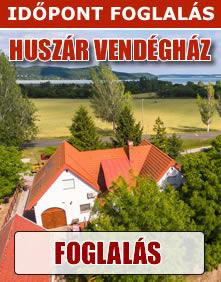 Tulip guesthouse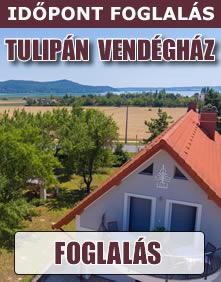 Payment option
Payment is possible in all of our guesthouses: cash, bank transfer or ZÉP card (OTP, SMEs, K&H)
Tourist tax 2023. from January: 400HUF/person over 18/night
Az idegenforgalmi adót minden esetben készpénzzel kell kiegyenlíteni: a szobában található üvegcsébe kell beletenni.

Please ask for more information, contact us!
Huszár guest house: huszarvendeghaz.orvenyes@gmail.com
Tulip guesthouse: tulipanvendeghaz.orvenyes@gmail.com